Post by JayBase on Jun 15, 2017 13:50:30 GMT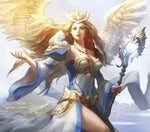 To craft a Level 3 gold equipment, I need to make 256 Level 3 white equipment and upgrade them.
To craft a Level 5 gold equipment, I need to make 256 Level 5 white equipment and upgrade them.
It seems the same to me, so why say Level 3 is cheaper to make?
Because there is a faster cheaper formula/method of creating materials, instead of simply smelting and upgrading.
A. 1 white + 1 white = lvl1 white equipment
B. 1 purple + 1 white + lvl1 white equipment = lvl1 purple equipment
C. 2 purple + lvl1 purple equipment = lvl1 gold equipment
D. Dismantle the lvl1 gold = 1 gold material
By using this method , you can get a gold material by 3 purple + 3 white only and lvl3 gold equipment takes 2 gold + 2 purple. Lvl 5 Gold takes 4 gold and a gold(lvl3 or 4 or 5) equipment, and then you only have around 10 to 20% chance of getting gold equipment and most likely will end up with lvl5 purple. These formulas/methods cost a lot less in material use and smelting.
I suggest you read this thread to gain a correct understanding of equipment production, its costs and realistic success rates of achieving lvl5 gold. The lvl5 gold success rate of 49% percentages provided by the game are a lie. Another cog in the money making IGG propaganda machine.
lvl-orange-equipment-step-guide


For new and low level players (lvl0 to lvl50) attaining lvl5 gold equipment is not practical. Time and cost will have your decks at a disadvantage because creating lvl5 gold equipment without the sparks resource to attain any special additional abilities is a waste. Where as producing lvl5 Purple equipment is easily achievable in a short period of time with a very low percentage of failure and at lvl5 gives you sufficient hero skill ability to remain competitive until you reach lvl60+. By this stage you will have produced all the gold materials you need for lvl5 gold and at around lvl75 sparks that are required for the special additional abilities will have started to accumulate. The lvl averages that I specify are based mostly on free to play accounts, if you are rich and dont mind spending 1000's of US dollars on the game you can attain the sparks required as low as lvl35/40.The accurate, fastest and cheapest formula for lvl5 purple equipment: 1 gold material + 1 purple material + 1 blue material + 1 white material + Lvl 3 gold equip gives you 99.97% purple chance, 0.03% gold.

Do not spend sparks on this equipment, save them all for your lvl5 gold attempts.
After now almost 3 months my account is lvl73 ranked 6th in Arena and I am mostly free to play. I buy monthly VIP and Alice 8000 Bond only. So my mission is to attain the fastest possible method of getting to the higher lvl85+ bracket and be very competitive at the lowest money cost. Most lvl85+ players have been at it for 1 to 2 years. I want to achieve it in 5 to 7 months. Patience is not one of my stronger virtues.