Map 16
Jun 9, 2017 16:00:03 GMT
Post by barleylime on Jun 9, 2017 16:00:03 GMT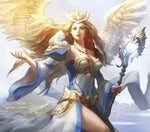 I have beaten it without Mass Charm. I used VS with Injured rune. I suppose Hanzo and Geomancer are giving you the trouble with their rage reduction?
When I see Geomancer being played, I try not to put any cards infront of him so he cannot trigger Retreat. I'll play may card infront of him only after he's been Requeilm.
As for Hanzo, looks like there's no counter for him. You just have to hope that he comes out late, after you have Requeilm enough of enemy crits. Thereafter when Hanzo comes out, you don't need anymore Requeilm.
There are two Sac enemy crits. Pray that when the Sac comes out, it would choose a powerful enemy crit (which has been Requeilm) to Sac. This will expedite the crit attacking their own hero.
Also, check and see if your crits or hero talents are triggering immunity of enemy crits. This causes enemy crits to heal, and makes it more difficult for the enemy crit HP to fall below 32% and for them to start attacking their own hero.
My VS hero talents are Group Tactics and Divine Shield, but I don't think these played a part in me winning this dungeon. What contributed to my winning were the first two Injured crits I played, then the lucky Sacrifice target on Chiro. I had level 8 hero vigor rune which helped me outlive enemy hero. I also had Initial rage rune level 5
Apologies. Something is wrong with my eyes. You were asking for 16-12 and I was explaining how to beat 16-11 which you have already beaten.